Here are Step by Step Instructions to Complete the GDI Learning Bonus.
A. Log into your GDI back office.
B. On the left-sidebar, click GDI Bonus.
C. Scroll down and click GDI Learning Bonus.
*Everything will be grayed out because you have not done anything yet (mostly). CLICK on images to enlarge it.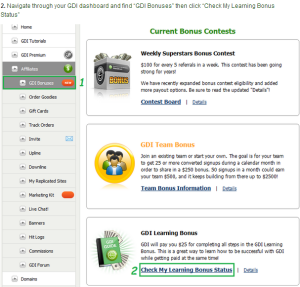 Complete GDI Learning Bonus